Eighties Time Machine is a Radio Show on Exeter's Phonic FM.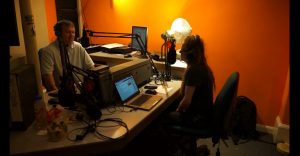 Hosted by Helen Connole (aka Honey Helen) and Jonathan Goudge (aka Superstar DJ Jonny G), as you may have guessed from the name, it's dedicated to music from that Era of Excess….the Eighties!
What's different about this show is that the music isn't the usual canned playlist 80s tunes that you've been used to.  The show features a mixture of tracks lovingly curated by the presenters and requests from a solid and ever expanding Social Media fan base.  While you may encounter the occasional hardy perennial, you are far more likely to discover some rarer blooms in this garden of aural delight…….  Hmmm.  That was quite poetic.
Ok so what we really mean is that this show is about the OTHER 80s music.  The stuff you listened to in your bedroom, over and over.  The tracks you thought were really obscure and cool and no-one else knew but you.  The tracks you obsessed over and wrote out the lyrics on the back of your schoolbooks.  Oh, and Rush……
Broadcast live from 4pm-6pm on the first two Sundays of each month, we pride ourselves that not only have we dedicated half of our playlist to listener requests, we also interact with them, via social media, live on air!
There are other 80s shows out there, sure.  Each one brings something to the table.  But we challenge you to find another show that is quite as interesting and interactive at this one!
We don't have many rules – requests need to be a song that was released in the 80s Decade – and we only ever play a song once.  If you want to know if your choice has been played already, you can check out our searchable playlist here.
All requests welcome.  12 inches, remixes, b sides, album tracks….. if it's 80s, you can request it!
You can find us on Facebook  but for the really fast paced chatter, we really recommend you join us on Twitter – the happenin' hashtag during the live shows is #80stm
Listen to us live on Phonic FM or, if you live in the Exeter area, you can go really old school and tune us in on 106.8FM.  For all you Android and Apple Aficionados, you can also find us on the TuneIn app by searching for Phonic FM
Wondering what you've missed?  We've thought of that too!  You can follow our exploits on Mixcloud
Really, the only way we could make it easier for you is to come round to your house with a Ghetto Blaster and a Mixtape!